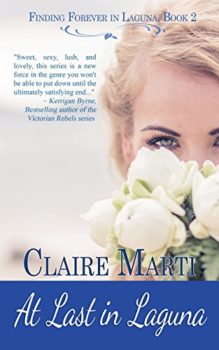 Finding Forever in Laguna #2
May 25, 2018
The Wild Rose Press (Champagne Rose)
ISBN-10: 1509216715
ISBN-13: 9781509216710
Available in: Audio, e-Book, Trade Size (reprint)
At Last in Laguna
Alyssa Morgan has secretly been in love with her older brother Nick's best friend, Brandt Dempsey, since she was an awkward, lonely teenager. When she catches the bouquet at Nick's wedding, she throws caution to the wind and propositions Brandt to a two-week fling. He's tried to ignore how Alyssa has blossomed into a strong, talented, gorgeous woman because as his best friend's baby sister, she's off limits. After they share a mind-blowing kiss, Brandt struggles to fight their undeniable chemistry. His tragic childhood scarred him, but he pushes it deep inside, only allowing the world to see a wealthy, carefree entrepreneur. Forced to work together on Brandt's latest charitable venture, Brandt and Alyssa's passion cannot be denied. Alyssa knows he's the one. Can she convince him they belong together?
Alyssa Morgan gripped her champagne flute in her left hand and glued her right arm to her side, fingers curled into a fist. How in the world had she been recruited for the traditional wedding bouquet toss? The last place she wanted to be was among the pack of women vying to snag a bunch of flowers.
In fact, she'd hidden in the restroom with her champagne, certain she could escape the single ladies' ordeal. Unfortunately, Sophie Morgan, née Barnes, refused to begin the archaic ritual until her new sister- in-law could be included. The other bridesmaids hunted her down and corralled her back to the dance floor.
Fine. So here she was, squeezed into the middle of the group. She'd pretend to participate. Nothing short of a cattle prod to the back could induce her to jump up and try to obtain the unwanted prize for herself.
back to Top
At Last in Laguna is literally one long roller coaster ride; everyone knows there are highs and lows but how the ride ends is a mystery until the end… I enjoyed the writing of Ms. Marti and the struggling romance was realistically portrayed. At Last in Laguna is a wonderful read for the romantic at heart.– Coffee Time Romance and More
"Sweet, sexy, lush, and lovely, this series is a new force in the genre you won't be able to put down until the ultimately satisfying end…" Kerrigan Byrne, USA Today Bestselling Author
Readers are intrigued right from the very start of At Last in Laguna…Powerful characters and an unusual conundrum plus plenty of hot action make this a top choice read for any romance fan-–Long and Short Reviews.
Two Thumbs Up!I LOOOOOOOVVVVEEEDDDDDD this book! Alyssa is that friend who will tell you like it is, building up your confidence. Yet under it all, she's struggling with her own issues and quirks. She's head strong…and honest…and flawed….and real.
And of course, it can't be a romance without her handsome love interest. Brandt (I love that name!) is just as flawed as Alyssa. But he's the protector. Loyal and probably his own worst critic.
But these two together?
SWOONSVILLE.
Bonus points for the best-friend's-sister trope!
Ms. Marti does a great job of taking us on a journey of two characters that many of us can relate to, who want so badly to be loved, but don't believe it's meant to be. Well written with great banter, this is a must-read! NOTE: While it is the 2nd novel in a series, it can be read as a stand alone. 5 Stars, Kelley–Amazon Reviewer
A Wonderfully satisfying page-turner!  Claire Marti has written a wonderful page-turner that is both engaging and moving. Alyssa and Brandt are two characters the reader will root for as they each deal with their own obstacles to love. Marti infuses At Last in Laguna with plenty of her trademark wit and humor, without compromising emotional depth and payoff. Hurry up and publish the next book in this series! 5 Stars, RCP–Amazon Reviewer