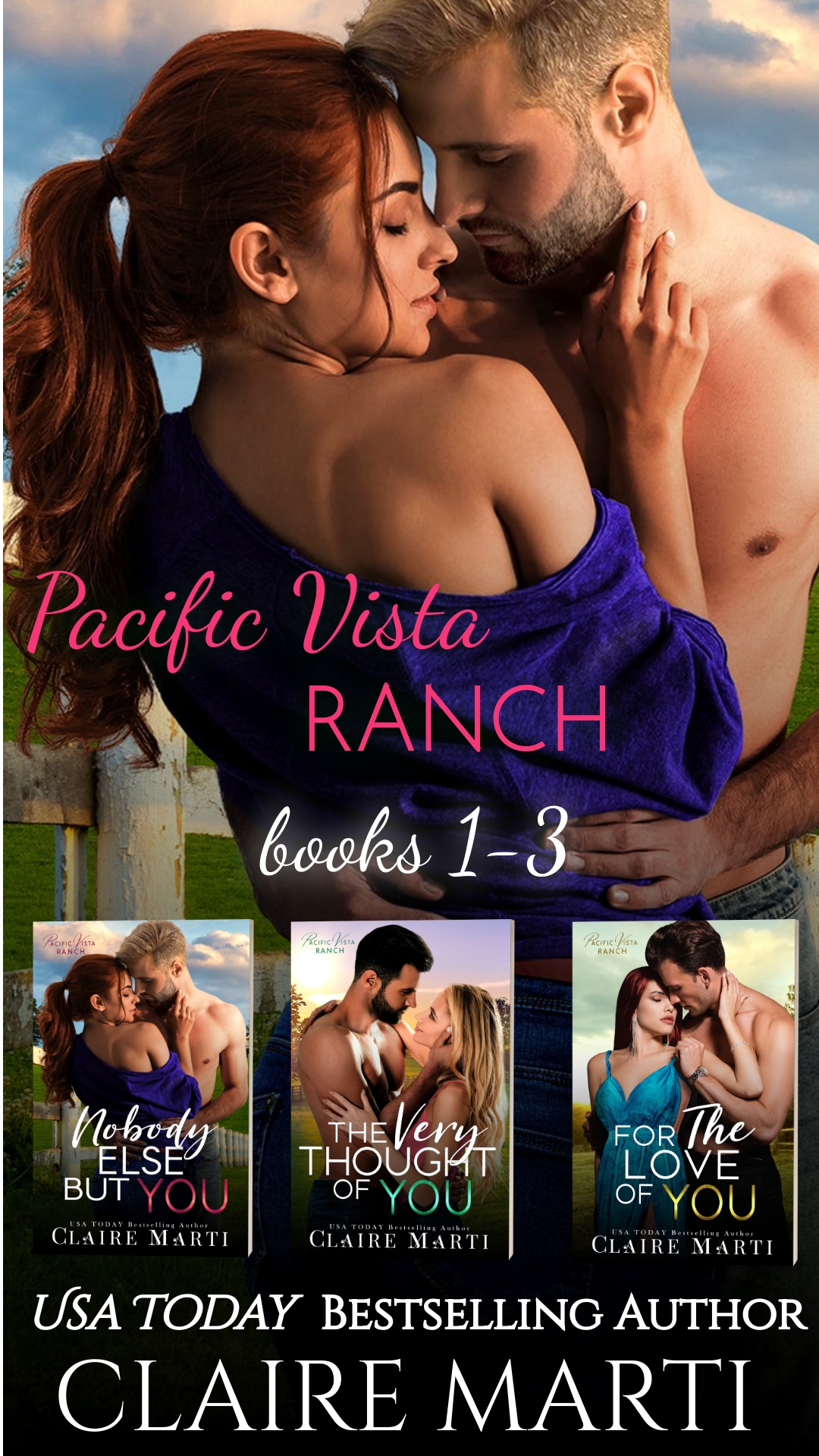 Pacific Vista Ranch
April 19, 2020
Indie Published
Box Set
Available in: e-Book
Pacific Vista Ranch: Box Set Collection Books 1-3
Pacific Vista Ranch Box Set––Limited Time 99 cent sale!! 
Inside you will find three compelling novels, filled with heart, humor, and sizzling romance. Once you dive into the McNeill family's saga, you'll never want to leave gorgeous Pacific Vista Ranch. Each book is a standalone story with complex characters, unexpected twists and turns, and a hint of Hollywood.
Book 1: Nobody Else But You-Enemies to Lovers/Forced Proximity Romance
A smoking hot stuntman. A fiery horse breeder. And a 220-acre ranch too small for both of them. Sam intends to fight him at every turn…if only her heart didn't race when they're together. Holt does his best to steer clear of her…except all he wants to do is hold her close. The sizzling attraction between them is either going to burn up the sheets or burn down the ranch…
Book 2:  The Very Thought of You Opposites Attract/Unrequited Love/Firefighter Romance
A perfectionistic equine vet. A gorgeous fireman. An unrequited high school crush blazes hot twelve years later. Could his dream woman become his real love or will his professional ambitions extinguish their chances? Once the smoke clears, will Amanda realize Jake isn't a fling but her hero after all?
Book 3: For The Love of You Fake Engagement/One-Night Stand/Forced Proximity
For a French soccer icon, and a gifted artist, a fake engagement is the perfect solution for their current dilemmas. But when last summer's fling slips from lust to love, their pretend relationship becomes too hot to handle. Can last year's one night stand and this year's fake engagement turn into true love forever?
Each Pacific Vista Ranch Romance can be read as a standalone book — no cliff hangers here! Each book contains one couple's story. However, they are best read in order to get full enjoyment of each sister's story and the McNeill family saga.