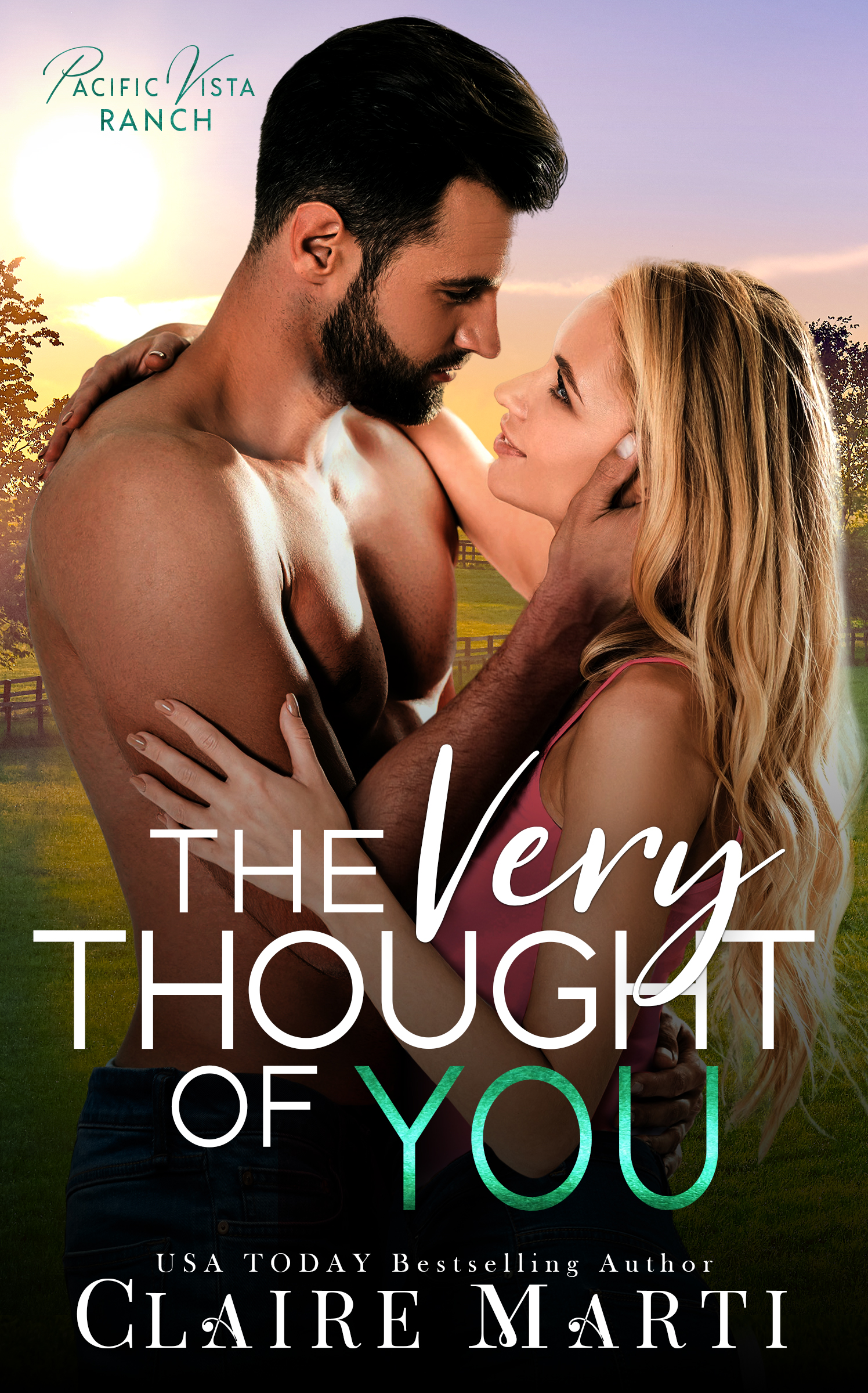 Pacific Vista Ranch #2
October 30, 2019
Indie Published
Available in: e-Book, Paperback
The Very Thought of You
A perfectionistic equine vet. A gorgeous fireman. An unrequited high school crush blazes hot twelve years later.
Reliable Amanda McNeill's world toppled last summer when Hollywood invaded her family's horse breeding ranch. Now she's in a massive rut. She yearns to be impulsive, even wild, and a hot fling with Jake Cruz might be the sizzle she needs to jumpstart her life.
When firefighter Jake Cruz comes face to face with his former crush Amanda, her charming blushes and heated glances tell him she notices him this time around. While Jake longs to discover if this Amanda matches the girl who starred in his adolescent fantasies, his desire to become fire captain, and earn his family's pride, requires he focus on work, not passion.
Could his dream woman become his real love or will his professional ambitions extinguish their chances? Once the smoke clears, will Amanda realize Jake isn't a fling but her hero after all?
One-click this unrequited love/secret crush/opposites attract romance today!
She'd spent most of her life always choosing the safe path. She'd been the big sister to her twin siblings when they'd lost their mom. The shy, private bookworm, her books and her animals had always comforted her. She was the only McNeill family member who didn't either wear their heart on their sleeve or have a temper like a rollercoaster.
No matter how much she despised the label, she was a practical woman. Sensible even. When Jake and she were together, undeniable chemistry sizzled in the air between them.
As a practical woman, the smart move would be to take the situation into her own hands. She'd test it out to see how he reacted, but if he was even half as attracted to her as she was to him, she'd make the first move.
It was the sensible thing to do, considering the circumstances.
What did she have to lose?
Well, besides her pride and possibly her free personal trainer.
And her dog.
But what if her gamble paid off? She shivered.
He sat quietly next to her, the warmth from his skin reaching across the space between them. There was just so much smooth bronzed skin, stretched taut against all the sinewy muscles. She'd never been this close to such a perfect physical specimen.
Heat pooled low in her belly. This was ridiculous. They hadn't even kissed yet and she was on fire for him. She'd never had this type of reaction to a guy before. Maybe if she had, she would have gone on more dates over the last six years.
And maybe because she hadn't gone on many dates over the last six years was exactly why she was so on fire. Regardless.
back to Top
I love a good second-chance romance and The Very Thought of You is one of the best I've read. This is more than a romance, though. Jake and Amanda are a couple any romance reader will fall for. Highly recommend! 5 Stars N.N. Light's Book Heaven
Opposites attract and set emotions ablaze. Marti couldn't disappoint my heart even if she tried. I felt like I was wrapped inside of a beautiful dream. 5 Stars- Hopeless Romantic Book Blog
The Very Thought of You is a beautiful continuation of the McNeill family journey as the second book in the Pacific Vista Ranch series. Amanda and Jake effortlessly brought me into their story with tenderness, love, and challenges of the human spirit. As an animal lover, I also experienced a heart melt every time an adorable dog named Stella made her appearance! A compelling, sweet love story set upon stunning descriptions of North San Diego County in California, made this a continual page turner for me. It also left me with a wonderful motto: Don't let fear hold you back. 5 Stars-Starra A, Amazon Review
"Marti delivers hot cowboys, feisty heroines, and a love story that will warm your little ol' heart." 
Katie Lane, USA Today bestselling author
Another Great Romance from Claire Marti!
Jake Cruz allowed his learning disabilities to define and limit him for most if his life. He's been able to work around them, and carved a good life for himself as a firefighter, one that didnt rely on reading or book smarts. But now that he wants to go for a captain position he needs to earn his Bachelors degree, and he's gonna need help to get there.
Enter Dr. Amanda McNeill, a local vet, and the older girl from his high school days he carried the biggest torch for. Crush sounds too mild for the feelings he had for Amanda back when she was his algebra tutor. She never treated him like he was dumb, and when he runs into her again he's struck by how beautiful and kind and perfect she still is after all these years. 
Amanda lost her actress mother as a teen, her family's life uprooted by the tragedy and the hounding of the media. The events so the past still haunt her, her underlying fear of abandonment making her unwilling to get too close to people. Even someone as yummy as Jake Cruz.
The chemistry between the characters is steamy hot, despite the insecurities they both hold close. The interplay between the two as they get to know each other and then finally (finally!) give in to the electricity arcing between them is well written, well times and just wonderful. I totally felt for Jake, trying so hard to earn his father's approval and while he loves his brother, is still totally jealous of how everything seems to come easily to him. Ms. Marti does a really great job of creating complex characters and family dynamics that ring true.
I wish I had more than five stars to give this book, and eagerly await a next installment to this series with this family. 5 Stars––Katie O, Amazon Reviewer
Strong, well written characters with logical and realistic goals and motivation. Author Marti "put me right there" with each scene. This is a terrific follow-up to book 1 in this series. Can't wait for the next one. 5 Stars –Wild Women Reviews