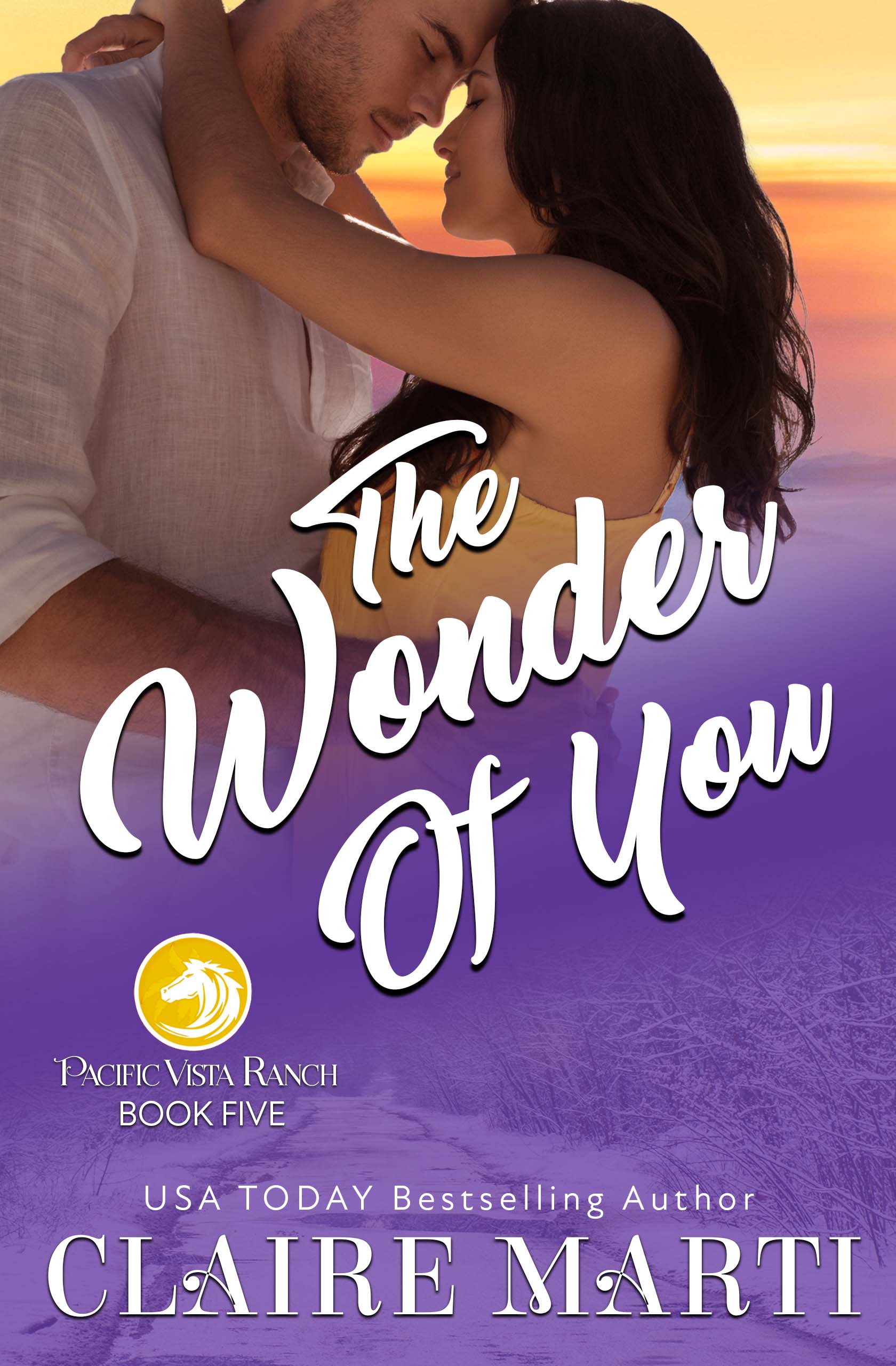 Pacific Vista Ranch #5
April 21, 2021

The Wonder of You
One lifelong friendship. One snowy night. And one kiss that changes everything.
Renowned photographer Grant Michaels travels the world covering the international sports scene, but after a bitter divorce he returns home to Pacific Vista Ranch. Tired of life on the road, he wants stability and a fresh start.
Archivist librarian Olivia Hanlon spent the last decade stuck in her hometown. Now she has a chance at adventure: a dream job in Greece for one year.
Childhood best friends Grant and Olivia share a forever bond, always there for each other through thick and thin. When they get snowed in together at a snowboarding event, one steamy New Year's Eve kiss quickly spirals into an explosive chemistry neither can deny. Except he's ready to settle down just as she wants to spread her wings.
Will their friendship survive this newly discovered passion… or did they ruin the one relationship they each count on?
Kiss time. And the rest of the party receded and it was just him with Olivia. Alone again with the magnetic pull between them too powerful to resist. Yet, Grant couldn't budge his feet, they were like iron boots nailed to the hardwood floors.
"Four! Three! Two! One!"
"Oh, damn it." Olivia crossed the small space between them, wound her arms around his neck, and pressed her mouth to his. Grant's paralysis ended when her soft lips and sweet breath touched him. He thrust his hands into her long, silky hair and slanted his mouth across hers, deepening the kiss. Their tongues swirled and stroked and his grip tightened on her head, holding her in place while he plundered her mouth.
Cheers erupted around them, dragging him back to the present. He lifted his head and stared into her eyes. Her pupils were huge, the blue irises almost overtaken. Both of them were panting, like they'd just hiked the backside of Mammoth Mountain.
Someone smacked him on the back. "Happy New Year!"
It was a stranger, but suddenly Grant realized how close they'd come to being discovered. It wasn't like Olivia had given him a peck on the lips. They'd been devouring each other in the middle of the throng, oblivious to everyone else. To everything else.
And all he knew was right now, all he wanted was to spirit her back to the condo and spend the beginning of the new year exploring every inch of her perfect little body. All the reasons it was a bad idea didn't seem so important in the moment. He needed to be inside her.
"Grant." She whispered, but he couldn't ignore the matching need in her voice.
Surrendering to impulse, he grabbed her hand and tugged her toward the coat check. She followed without a word. They were on the same page. He didn't want to think past tonight. And all he wanted was Olivia.
back to Top
5+ Stars Whether you are at the beach or pool, this is your summertime must-read. The heat between Grant and Olivia will singe your fingers yet you'll be yearning for more. The romantic tension is addictive and made for an unputdownable read. N.N. Light's Book Heaven
There's no place like Pacific Vista Ranch. Marti gives the heart a reason to feel with every trip she takes readers on. Here I am five books later and I have yet to get enough of this series. With a touch of humor, an abundance of heart and an optimistic point of view, The Wonder of You becomes a captivating story of friendship, new hope and everlasting love. It's not the romances that draws me, but the people that experience them. Isha Coleman's Book Blog
The Wonder of You is a lovely best friends to lovers romance that leaves you breathless and makes you feel as if you have been given a warm hug. Olivia and Grant will have you smiling at their delightful banter and swooning from the fire of their kisses. This is one of the best friends to lovers romances I've ever read. ~Kenya Goree-Bell, Author of The Mogul Series
I loved Livvie the bookish beauty and sweetly, sexy Grant desperately worried he'll lose his best friend by falling in love with her. This story is a vacation. And just like a vacation I started to slow down my reading because I never wanted it to end.         5 Stars-Amazon Reader
Marti has a wonderful way with words, giving the reader a true sense of place as well as insight into the individual characters, both their motivations and their fears. Her dialogue is spot on, and I loved the way the characters wove their backstory so naturally into normal, entertaining conversation. I loved everything about this book, actually. A fast, fun read, Marti keeps the pages turning and leaves you satisfied and yet somehow still wanting more. Luckily, there are four other great books in this series, all standalone stories that you can read on their own or in any order and still enjoy. As a Marti fan, I did happen to read them all in order and loved every minute of them and highly recommend. If you're looking for a series for your summer beach chair reading, look no further. If I could give this book more than 5 stars, I totally would. 5 Stars-Katie O'Sullivan Book Blog