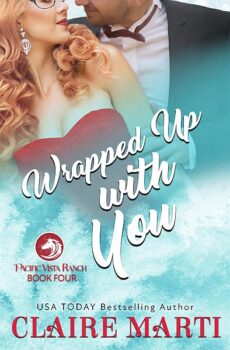 Pacific Vista Ranch #4
November 18, 2020
Indie Published
Available in: e-Book, Paperback
Wrapped Up With You
When cocky financial genius Rafael Cruz is forced to partner with his snarky office rival Phoebe Hollingsworth to land a prestigious new client, nothing goes as planned.
At work, they ignore each other, but at the Jingle Ball, their unexpected chemistry changes the game.
Will their secret holiday hook-up ruin the deal or is it the start of a deeper connection?
Originally published October 2020 within the Jingle Balls anthology in eBook — this edition has been significantly expanded.
Rafe's skin heated from Phoebe's intense gaze, but he continued talking to Ella about the almost legendary enormous waves she and her husband had seen in Nazaré, Portugal. Sitting next to Phoebe had been exquisite torture. Ice Queen was gone and in her place was a fascinating, witty, interesting woman. He'd never seen this side of her––and yes it was his own damn fault for judging her unfairly––but, damn. She effortlessly volleyed questions with the clients and if he'd met her tonight for the first time, he'd never believe she had a cold bone in that smoking hot body of hers. He'd been rock hard most of the night, on the brink of taking a bite of her creamy bare shoulder.
From her delicate floral scent assaulting his nostrils, to the moment she'd tossed that wild mane of hair against him, to the surprisingly adorable hint of emerging Southern accent as she consumed more wine, she was driving him nuts. If someone had told him he'd find Ms. Hollingsworth cute and funny and sexy, he would have coughed up a lung laughing.
And somehow throughout the endless courses and wine, the scarlet stain of her lipstick remained in place. Which caused his imagination to short-circuit considering what activity would wipe it off. He checked his watch. The charity's chairman was scheduled to speak in an hour and then they'd wrap up the evening. Although Cliff had scheduled a limo to drive them home at 11:00, the visual of sliding into a dark leather backseat with her was a little too appealing. He needed to get it together before then––tonight was about business, not seduction. And definitely not about seduction and Phoebe in the same breath.
He needed some air.
He thrust back from the table and stood. Between the heavy meal and rich desserts and the tease of this now intriguing woman, he needed to cool off before he did something stupid.
Like stroke a hand up her silky thigh to see if her ivory skin was as soft as it looked. Because of course her cut up-to-there slit was on the shapely leg mere inches from his own. Too much temptation.
She angled her head up toward him in surprise. "Are you okay?"
Well, maybe he'd moved a little abruptly. "Fine. I'm just going to grab some air. I'll be back in a few minutes."
One brow winged up in a now familiar gesture and she rose and turned to smile at the table. "We'll be right back, everyone. Don't have too much fun without us."
back to Top
"Snappy dialogue and appealing characters mark Marti as a writer to watch." Publishers Weekly
Crowned Heart for Excellence from InD'Tale Magazine! Ms. Marti's exquisite details in this one-sitting page-turner will have the reader melting into their seat in anticipation of the next chapter. Rafe and Phoebe's rivalry is so full of sexual tension that one will crave the details of the small glances or body brushes from the couple…All matter aside, this novel monopolizes one's attention and eggs on the anticipation for more astounding stories from Claire Marti.
5+ Stars! A sizzling holiday office rivals romance I couldn't put down.  Instant attraction that grows to love. Smart, sassy dialogue to keep me entertained. The emotions between Rafe and Phoebe are honestly drawn while the chemistry ignites the plot. Claire Marti has a true gift for writing authentic 'make your heart beat fast' romance. From characters who you'll connect with right away to emotional narration, this is a romantic gem surely to get you in the holiday mood.–N.N. Light's Book Heaven
"Marti continues to hold my heart with wonderful characters, irresistible romance and unforgettable storytelling…Wrapped Up with You had me at hello."Isha C. Book Blog
5 Stars! Quick, happy, sexy holiday read! I love holiday romances and Claire Marti's Pacific Vista Ranch series, so to have a story that combines the two? Heavenly! I loved the glimpse we had of Jake's brother Rafe in the Very Thought of You, and Wrapped Up With You, is the story of his romance with Phoebe. Adversaries at the office, because she's a rival for the position at his company he's been working toward, but sparks fly between them when they have to attend the holiday Jingle Ball together for work. I enjoyed that Phoebe was a strong, capable, confident woman and a worthy match for Rafe in every way. Having the chance to revisit beloved characters from the previous three Pacific Vista Ranch books on Christmas Eve was a bonus. I've loved every book Claire Marti has written and Wrapped Up With You is no exception. A quick, steamy, happy holiday read––I highly recommend! Donna S––Amazon Reviewer
A sexy, witty holiday read!I love Christmas romances, so I was thrilled to read this clever, steamy enchanting story. Rafael Cruz is my favorite kind of hero- -a cocky charmer who meets his match and falls hard and fast. Phoebe is a strong, independent heroine who made me laugh every time she opened her mouth. Marti excels with snappy, face-paced banter, smart characters, and unique stories and settings.
I recommend this read- -it's definitely one l'll return to again and again. It's a stand-alone, but I'm glad I had read the first three books because you meet Rafael back in Book 2 as the older brother of hero Jake Cruz. I can't wait for the next installment in the Pacific Vista Ranch series. 5 Stars–Kay B––Amazon Reviewer