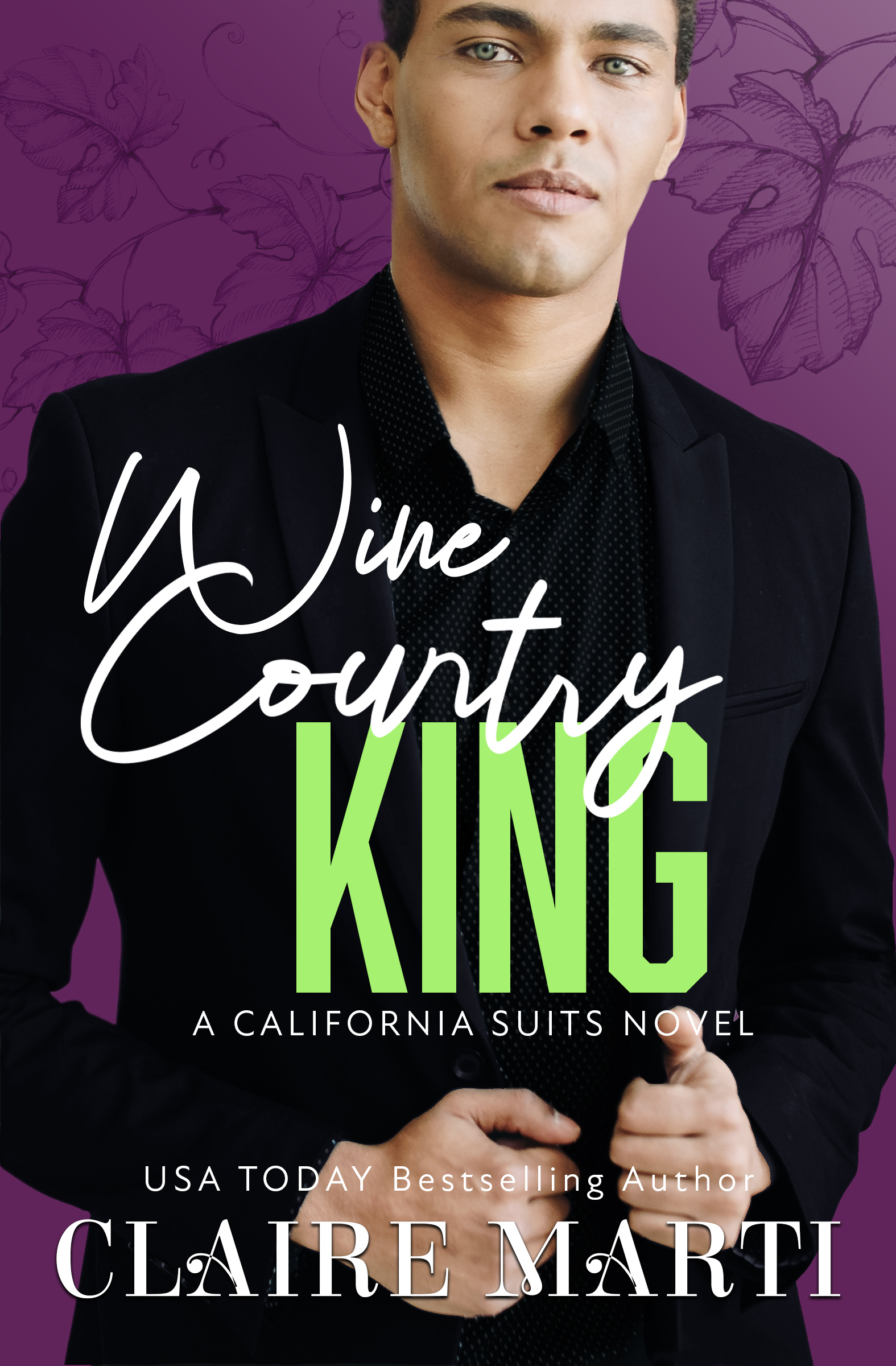 California Suits #2
January 13, 2022

Wine Country King
He's her brother's best friend. There's only one bed. Will one kiss change everything?
Jack Cassidy heads the team opening the next in an exclusive line of boutique hotels, this one in wine country. Working with his best friend's sister should make it easier, tapping into her expertise about the area and its wines. The pair have been friends for years, so sharing an apartment shouldn't pose any issues… except for the simmering heat building between them.
Campbell Taylor's one of only a handful of women to battle the all-boys club and go for the title of Master Sommelier. She didn't rise to her position by being a pushover, but living and working with her brother's best friend – the man she's secretly crushed on for years – might prove to be her greatest challenge. How can she get him to see her as more than Cameron's little sister? And will their undeniable attraction derail her dreams?
One-click this brother's best friend, forced proximity, only one bed romance today!
***Wine Country King is the second book in award-winning and USA Today bestselling author Claire Marti's spin off contemporary romance series, California Suits. The series follows the adventures of five best friends who are opening a string of luxury boutique hotels from La Jolla to Monterey to Beverly Hills as each one finds true love…usually where he least expects it. Each book is a standalone.
An awkward silence hung over the room, the clicking of the silverware on ceramic the only relief from the unspoken tension. Her pulse hammered in her throat––she couldn't handle it. "So how did everything go this afternoon?"
Jack set down his fork and finally looked at her, his jaw tight, his eyes unreadable. "You're right. There is nowhere to stay within twenty-five miles, and I can't commute that far. So…" He shrugged and sipped his wine.
Time to return them to stable footing. Humor was her go-to. "So, you're admitting that I was right and you were wrong?" She flashed a toothy grin.
His severe expression relaxed, and he chuckled. "I admit nothing. I still wish I'd been able to negotiate with the landlord and help him find a different option, but it is what it is."
"Exactly. I was right." She saluted him with her glass. "How delicious is this halibut?" The flaky white fish was perfectly prepared, with the appropriate amount of seasoning. Jack loved excellent food as much as she did.
He clinked his glass against hers, the muscles in his powerful forearm flexing. "You were definitely right about the fish. And I appreciate not having to think about groceries or anything tonight. It's been a long day."
"Well, I know our schedules are both super hectic and we probably won't see each other every night, so I figured I'd treat to welcome you to town." And squelch the sliver of guilt she couldn't shake off. But how could she have turned Kyle's sick father away?
"About that. How's that going to work with me sleeping out here and the dresser in the bedroom? I can't exactly barge into the room if I get back later than you." A crease appeared between his dark eyebrows.
She sighed. It was awkward. Even if she had looked at him like a brother–and that ship had sailed in high school––sharing the space with another person wasn't going to be easy. Add in the attraction factor and the damn gray sweatpants and she was in trouble.
"Why don't you leave most of your clothes in the bedroom and keep your pajamas––"
"Pajamas?" The dimple in his right cheek deepened before he burst out laughing.
"What's so funny?"
He shook his head. "I left my Star Wars footie pajamas in storage, so I guess I'll have to improvise."
She waved a hand. "Surely you have something to sleep in?" She'd buy him a head-to-toe flannel onesie to cover all that smooth skin.
"Well, I've lived alone for over a decade, so no, I don't have pajamas. Will boxers work?" His leaf-green eyes lit with mischief.
"And a t-shirt. Boxers and a t-shirt." No way would she survive seeing that carved torso on the regular. And please god let them be baggy boxers, not those snug boxer briefs.
He smirked. "Maybe. It's basically summer up here, Campbell. I'm not going to sweat to death. You'll be in the other room anyway. So, does this mean you wear pajamas?"
She sniffed. "We do have air-conditioning, as you may have noticed. And of course I have pajamas. What if there was a fire in the middle of the night and I had to run outside? I like to be prepared."
back to Top
Readers Are Leaders rated it 5 Stars: It was amazing
I love these contemporary romances about love . This series follows educated accomplished thirty somethings on the verge of realizing their dreams. Throw in breath taking landscapes and a little tension and we have a winner. This a a best friend's verboten little sister trope. Forbidden fruit creates many jams or in this case good wine. Jack is smooth as the vino Campbell has dedicated her life to but a drifter. It's not his fault military brat background and all. His debonair good looks and player flair have never failed to snare Campbell's heart. She catches glimpses of his vulnerability and gets love locked down. He falls for her and this vagabond bad boy wants to settle down. Fight for her love or flight to her Master Som dreams in Paris where does the rainbow end for the Wine Country King and his would be Queen? I received this advanced review copy as a courtesy gratis. This voluntary review is both my pleasure and a thank you to the author for another winner in The Hotel Kings series. I can't hardly wait till April to read Cam's story but by then we should all be breathing better after this Covid wave has subsided. (less)
Megan Randall rated it 5 Stars! It was amazing
Ms. Marti's latest book Wine Country King is the second in the California Suits series and is a must-read. Unless you haven't read Hotel King (the first in the California Suits series) and then – you need to get on that. Seriously. It's so good. Read that book and then come back here. I'll wait.
What did you think? Great, right? Good. Now that we've all read the first book let me tell you why you want to read the second. The chemistry between Campbell, Master Sommelier extraordinaire, and Jack is smoking hot. You see, Campbell has had a secret crush on Jack for a long time. (Don't you love secret crush stories?) This author is great at building the simmering tension between our hero and heroine to a point where I have to put the book down and turn on a fan. Obviously, Jack isn't blind to his attraction to Campbell, but given their long history of friendship, it only dawns on him – for real – when they're somewhat forced to live together. And if that doesn't ring your bell, wine lovers will adore the total immersion into, um, wine-ness. (a word I just made up.) I can't recommend this book enough. It is a great escape and so much fun!
Mallnee rated it 5 Stars It was amazing!
Oh how I love a Claire Marti book!
Claire Marti has again delivered a fun and fast read you don't want to put down. The California Suits world is one I would love to be a part of. They are truly great friends who love each other for who they are. I love that Claire weaves all of them into each book in some way, so you don't lose the friends you have found once the book ends.
In Wine Country King Jack continues to ooze confidence and masculinity. He ends up finding his heart is lost to Campbell, a strong, vibrant & extremely beautiful woman who just so happens to be his best friend's little sister. From the first kiss the temperature just keeps rising. These 2 are fun to read as they navigate the transition from best friend's little sister to co-worker then on to lovers and finally capturing each other's hearts. Great book! (less)
Jennifer rated it 5 Stars It was amazing!
Romance that ages like a good red.
This was light and breezy, well written and a thoroughly enjoyable read as Jack and Campbell try so hard to resist the pull they feel toward each other until one show stopping kiss blows their worlds apart. But they want different things from life don't they? And then there's that 'brother's best friend' issue to deal with.
Ms Marti writes a great story; there's romance, steamy sex, witty banter and just enough tension to keep you flipping through the pages to see how it all works out.
The second outing in the California Suits Series is a great one, can't wait for the next when we get Cameron, the brother's story.
Donna S. rated it 5 Stars It was amazing!
Claire Marti is one of my favorite contemporary romance authors, and I loved the first book in her California Suits series and have been anxiously awaiting book two. Wine Country King did not disappoint! If possible, I enjoyed it even more than Hotel King. Jack was such a fun secondary character in the first book and this is his story. He is even more appealing as we learn more about him as the main character. And Campbell is such a great match for him. She's smart, funny, sassy and it was so fun to watch their relationship unfold.
Wine Country King checks a lot of boxes for me…gorgeous California setting (which Marti always describes so beautifully, I feel like I've been on a vacation there when I'm done with her books), brother's best friend, forced proximity. What's not to love? Nothing…I loved it all! 5 stars from me for Wine Country King, and I'm already looking forward to book three in the California Suits series.
Sandy G. rated it 5 Stars. It was amazing!
I absolutely loved this book!! It had a great storyline and the characters were so realistic!! I loved the happy ending and how it brought in other characters so you can read their stories too!!! I definitely want to read this complete series.
I received an advance review copy for free, and I am leaving this review voluntarily.
Isha C. rated it 5 Stars. It was amazing!
Open a Claire Marti novel and your heart may never view love the same. From heartbreaking to heartwarming, emotions run deep. Wine Country King is a beautiful canvas of bountiful flavors. Jack and Campbell somehow manage to find the sweet spot between overly dramatic and scorching hot. With a sprinkling of humor and a a never-ending supply of heart, Marti delivers a feast of the senses that proves hard to resist.
Charlotte O rated it 5 Stars. It was amazing!
Jack and Campbell are fire!
This is the second romance in the California Suits series and this story is lit.
The last time Jack Cassidy saw his best friend's little sister Campbell, she was a rising-star college soccer player. These days Campbell has focused her considerable drive toward the difficult goal of becoming a Master Sommelier—where she would join an exclusive, almost always, all-boys club.
Jack is a nomadic, real estate attorney persuaded by his childhood friends, the other wine country persuaded by his childhood friends, the other wine country kings, to accept a dream role opening a luxe, boutique hotel in Paso Robles, California wine country—a place so beautiful it just might tempt him to plant roots.
When Jack and Campbell must share her apartment during the height of the harvest season, they resolve to make it work. Because they can't afford to complicate or compromise their career goals by giving in to their burgeoning attraction. But close proximity means in no time they're sharing meals, movie nights and… a bed. Campbell realizes her childhood crush on swoony Jack is now big, steamy and very adult. And it isn't long before Jack realizes he's powerless to resist the lure of the gorgeous, intelligent Campbell.
Theirs is an epic connection but is it the stuff of forever or just a fling that burns out while also destroying their professional aspirations? Will Campbell and Jack discover they are better together?
This steamy romance was a fabulous escape from winter doldrums. It was fun to reconnect with the other wine country peeps I met in the first book and get a peek at Campbell's brother's upcoming second chance romance. As always, Claire Marti's words and world-building transported me to the lush sunshine of California wine country where forever love and wine are always on the menu.