This review made me blush…and also made me so happy! Thanks N.N. Light's Book Heaven for this!
"Whether you are at the beach or pool, this is your summertime must-read."
Title: The Wonder of You: A friends-to-lovers romance (Pacific Vista Ranch Book 5)
Author: Claire Marti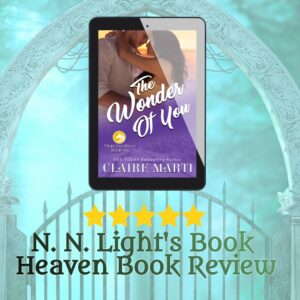 Genre: Contemporary Romance
Review:
Best friends Grant and Olivia are back together again for a snowy adventure but one kiss changes everything. Olivia Hanlan cherishes her friendship with childhood chum Grant more than anything else in her life. She'd be lost without him. Grant's returned home after a bitter divorce and has a hollow look in his eyes. This weekend in the mountains is just what he needs to get that sparkle back, or so Olivia surmises. It is New Year's Eve, after all, but an innocent kiss leads them down a path they've never embarked. Unable to quench the passion between them, they give in and make love while snowed in at their cabin. But what happens when the weekend is over? Can they go back to just being friends or have Olivia and Grant discovered the wonder of love with your best friend?
The Wonder of You is a friends-to-lovers romance I couldn't stop reading. This is my all-time favorite trope of romance to read, and Claire Marti has written a steamy romance not to be missed. Whether you are at the beach or pool, this is your summertime must-read. The heat between Grant and Olivia will singe your fingers yet you'll be yearning for more. The romantic tension is addictive and made for an unputdownable read. I've been a fan of this series and Claire Marti's writing since last year. Claire Marti is a gifted writer and her ability for writing characters so loveable, you'll wish they were your friends. The plot moves at a great pace with singe-worthy love scenes and humorous dialogue. The intricate descriptive narration sucks the reader in. I kept rooting for Grant and Olivia to work things out because they balance each other's shortcomings out with humor and grace. The ending is perfect, and I can't wait to see what happens next in this series. If you're a romance reader, you have to read The Wonder of You. If you're looking for a steamy beach read, pick up TheWonder of You. A brilliant friends-to-lovers romance I will read again and again. Highly recommend!
My Rating: 5+ stars