A perfectionistic equine vet. A gorgeous fireman. An unrequited high school crush blazes hot twelve years later.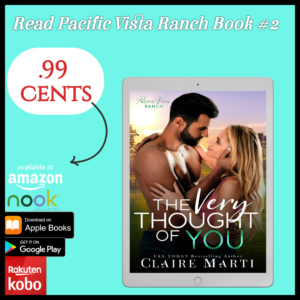 Reliable Amanda McNeill's world toppled last summer when Hollywood invaded her family's horse breeding ranch. Now she's in a massive rut. She yearns to be impulsive, even wild, and a hot fling with Jake Cruz might be the sizzle she needs to jumpstart her life.
When firefighter Jake Cruz comes face to face with his former crush Amanda, her charming blushes and heated glances tell him she notices him this time around. While Jake longs to discover if this Amanda matches the girl who starred in his adolescent fantasies, his desire to become fire captain, and earn his family's pride, requires he focus on work, not passion.
Could his dream woman become his real love or will his professional ambitions extinguish their chances? Once the smoke clears, will Amanda realize Jake isn't a fling but her hero after all?
Universal Link: books2read.com/theverythoughtofyou