5+ Stars Hotel King is a sizzling enemies to lovers romance I couldn't put down. Claire Marti is the queen when it comes to enemies to lovers romance.
4 Stars Valeen R.
Charlie is one independent, sassy woman who takes no kinda bs off anyone, and Ryan is alpha to the core with a big, soft heart once he starts developing real feelings for his nemesis. Hotel King is witty, sexy as hell, and so entertaining – the best kind of enemies to lovers story.
5 Stars: Charlotte O'Shay
Setting is king in Hotel King, the swoony, sophisticated first book in Marti's California Suits series. Claire Marti's new series starter, Hotel King captivated me from start to finish.
5 Stars: Isha C I Love Books Blog
Caught in a battle of wills, sparks fly, hearts break and romance takes hold. Marti speaks the language of love with a melodic voice and a graceful heart.
5 Stars: Katie O'Sullivan Book Blog
In Hotel King, Ryan and Charlie prove once again that Claire is a master of enemies to lovers romance, and a master of writing enjoyable beach reads.
Download for Free today!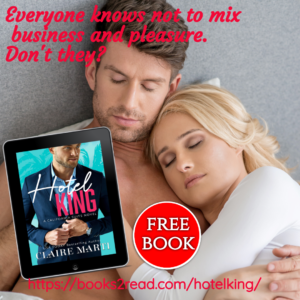 https://geni.us/hotelking