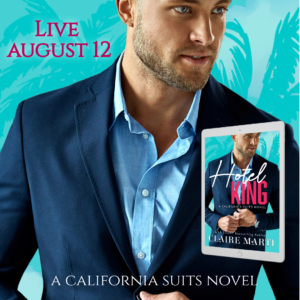 NEW SERIES ALERT: Coming August 12, 2021!
I'm thrilled to share a new spin off contemporary romance series. California Suits will follow the adventures of five best friends who are opening a string of luxury boutique hotels from La Jolla to Monterey to Beverly Hills as each one finds true love…usually where he least expects it.
HOTEL KING BLURB:
Entrepreneur Ryan Michaels never loses. Well, except that time, a few years ago when he lost a promotion to spoiled rich girl, Charlotte "Charlie" Ray. Now he's forced to hire his nemesis to secure funding to develop a string of luxury boutique hotels. Not only does she not fit his corporate vision, but she's too damn attractive for her own good. And his.
Working as VP of Sales and Marketing for a luxury hotel is Charlie's dream job. Too bad her boss is Ryan Michaels, the same pompous stick-in-the-mud that she remembers. If he tells her that this project is his legacy one more time, she might scream. Or maybe kissing him will get him to shut up?
Because that's the other thing. The sizzling attraction between Ryan and Charlie is impossible to ignore. But everyone knows not to mix business and pleasure. Don't they?