★★★★★ A Passionately Charged, Tender, and Romantic Story!
★★★★★ The first of Marti's new series already has me begging for book #2!!!
Now Free on all platforms: https://books2read.com/nobodyelsebutyou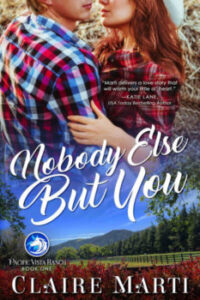 ⁠"Holt." She arched away from him, but couldn't leave the temptation of his embrace.  "This is crazy. We don't even like each other."
He slowly lifted his golden head and his heavy-lidded gaze roamed across her face and then pinned her own.
For a moment, only their panting punctuated the evening air. Was her chest heaving? Was heaving a thing outside of historical romance novels? Her heart thundered against her ribcage like she'd just sprinted from one end of the ranch to the other. She licked her suddenly dry lips.
His gaze dropped from hers and fixated on her mouth again.
She pressed one hand against his chest. "Holt." Her voice came out breathier than she would have liked. Breathier than it had ever sounded before.
"I don't know, sweetness, it feels like we like each other. A lot." His sculpted mouth curved up into a half-smile.
His wicked, dangerous mouth.
FREE DOWNLOAD⇢ https://books2read.com/nobodyelsebutyou
⁠